"If it's too tuff for the average man, its just about right for us"
Machining at CB Enterprises starts with importing your prints and/or CAD models into our GibbsCam CAD-CAM software.  We can import almost any kind of file, or build one for you on our Solid Works software.
Our Education, Training, and 25 years of Medical and Aerospace machining experience helps us determine the best possible methods of manufacture that will be most cost effective for your parts.
Your models are imported into our CMM for surface profile, size, and location nominal dimensions. Our inspection results are compared to those Nominal's to obtain actual deviations. Our QC-Calc software documents and reports the results and can collect and report SPC data if desired.
PRODUCTION & PROTOTYPE CNC MACHINING
-3D CONTOURING – 3, 4, and 5 AXIS MILLING – TURNING –
-HAAS – CLAUSING – GIBBSCAM – SOLID WORKS – RENISHAW-
MANUAL MACHINING
– MILLING – TURNING – GRINDING – 120 TON FORMING – EDM –
– BRIDGEPORT – TSUGAMI – GREENARD-
MEDICAL
Implants, Orthopedic Bone fixation plates
Surgury Tools, Drills, Cutters, Saws, Fixtures, Clamps, Etc…
Renishaw Probing and Broken Tool Detection  on 5 axis milling
316ss, 455, Titanium, Peek, Teflon, PTEG, ABS, Celcon, Ultem,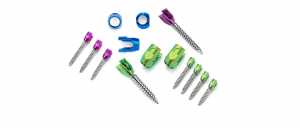 AEROSPACE
Slides and Sleeves
Hydraulic Valve Components
Orifices – .01 Diameter +- .0002.
Fuel and Fluid Control Parts, Fittings, and Orifices.
Proprietary Sharp Edge Preparation critical to flow requirements.
316ss, 321, 440, 455, 17-4, 15-5, 304, Titanium, Inconel, Aluminum, Brass, Plastics, and many others.